This Sunday, October 23rd is Dog Day at Old Westbury Gardens. If you've been wanting me to do your holiday portraits at Old Westbury Gardens, and I can understand why, but you didn't think we could because you want to include your dog(s), here's your opportunity to do both!
It's going to be a great day at OWG! The weekend weather is supposed to be picture-perfect here in NY! Believe it or not, the time is running out for holiday sessions. Call today to make sure you get them done soon so we can order your cards and gift prints, and make sure grandma or grandpa has an updated portrait of the those grand-kids or grand-dogs, or both!
I am only scheduling 4 sessions for that morning, so please hurry up and email or call me at 516.280.3471.
Holiday Mini Session information below. Any questions, call me!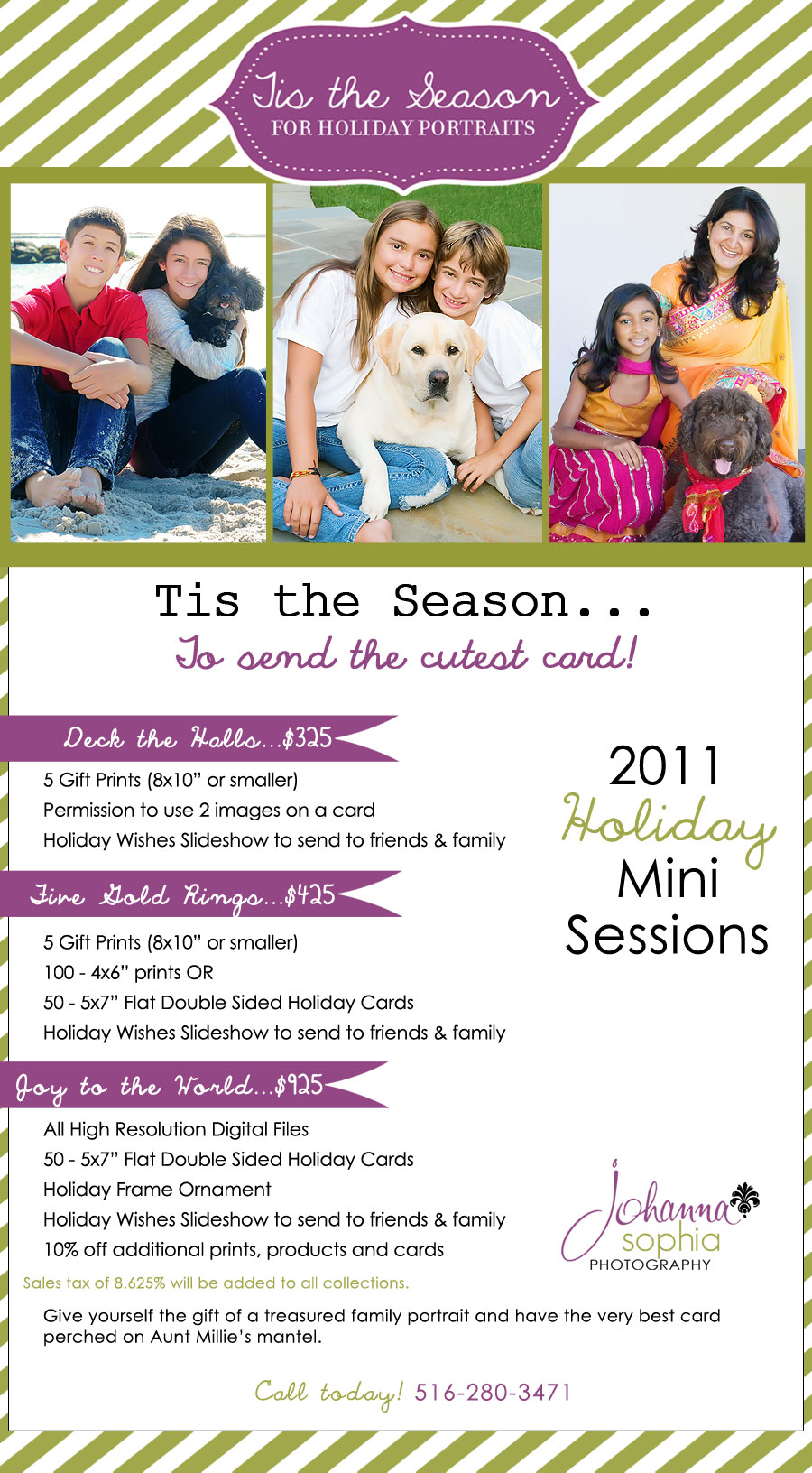 Holiday Mini Sessions are for up to 3 immediate family members. An additional family member is $25. Yes, pets are family members! Please note that for Sunday, October 23rd, the Holiday Mini sessions at Old Westbury Gardens – dogs are included!
All sessions are 20 minutes and will include 10-12 proofs for viewing in a private online gallery for 4 days.
Please note: If you have more than 4 family members you will need to book two consecutive time slots. Charge for additional 20 minutes of time (only) is $100 and is due at the time of booking along with $100 session deposit.
Session availability is limited. The last session date for minis is Saturday, November 12th. Sessions booked for after that date are regular sessions, and holiday collections do not apply. To ensure a timely delivery, this year's deadline for holiday orders is December 5th.
A $100 non-refundable deposit is required to reserve your mini session. Balance of payment for selected collection is due at the time of the session. All orders must be placed and additional items paid for within one week of gallery activation.
All collections include a Holiday Wishes slideshow of your gallery images to send to friends and family.
No substitutions please. All collection items must be ordered at one time or will be forfeited. There will be no exceptions. Thanks for your cooperation!
Please call me for additional information regarding the specific collection in which you are interested.